Holistic learning program for true female leaders
Career branding for next level success with Dr. Irene Kilubi
Career branding for next level success
with Dr. Irene Kilubi
Holistic learning program for true female leaders
Career branding for next level success with Dr. Irene Kilubi
The ENTRE NOUS Career Branding Program has been designed by Dr. Irène Kilubi and will be held in tandem together with Begonia Merayo and Julia Baumanns.
What are the dates and content?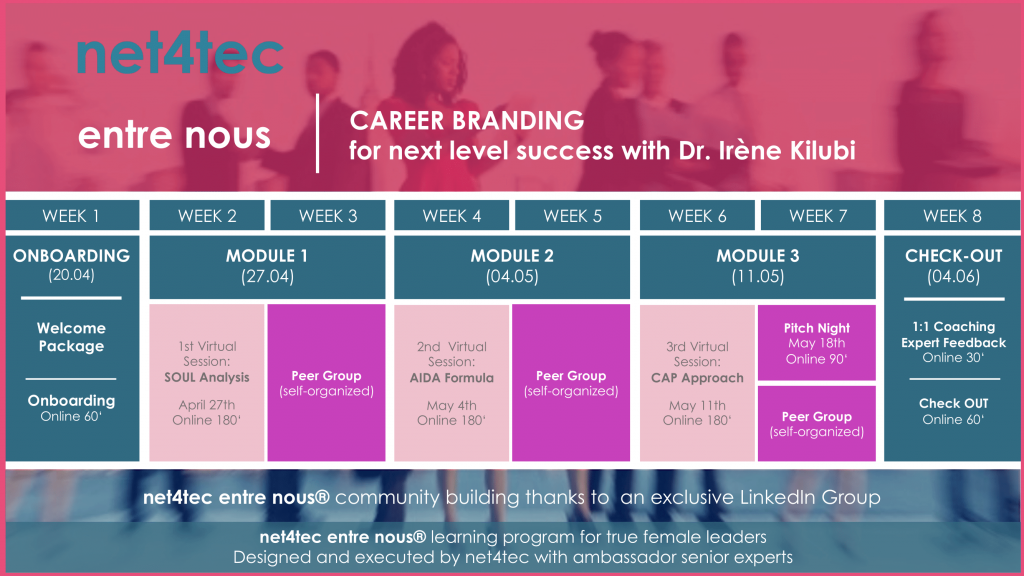 Career branding to your next level of success
8 weeks holistic learning program net4tec virtual entre nous®
Be one of the first true female leaders and book your place with a generous offer. First come, first
Price: 2.450€ including VAT
Special Launch Offer for net4tec Members and Partner Networks
Book your place until 18th of April 2021 and get 10% off
Price: €2.450 including VAT
Your unique brand is your path to success! Find out why Career Branding is your unique opportunity and the superpower you already possess. Define a crystal-clear positioning to reach your dream position. Discover how you enrich your working environment with your expertise.
We will design your unique AIDA formula including tagline and slogan for your brand message. During a special pitch session you will have the opportunity to receive valuable feedback from experts and your peers.
In this module you will better understand the key methods, artefacts, ceremonies, roles and frameworks. You will develop the perspective of the coach and best practice for different requirements of agile organizations.
This formula is often used in the advertising industry because it is about how to sell something to a person in four stages.
Show yourself with your extraordinary personality and competence! Leave your comfort zone and enter the execution zone. What if you could learn the clarity and tools needed to take your career brand's social media presence to the next level in a short period of time? It just happens…you can do it.
Each virtual learning module will be carried out via zoom and will take place from 18:00 – 21:00 CET.
To the point. Simple. In 60 seconds. Charming, competent and impressive.
90 minutes extra session, the platform o the program to pitch your elevator speech in front of the panel of net4tec entre nous experts and develop it furhter thanks to constructive feedback.
Secret weapon elevator pitch with the AIDA formula
Your return and benefits in 3 sentences
This workshop is suitable for all those who want to present themselves and their ideas in a professional manner and quickly win over their vis-à-vis.
DR. IRÈNE KILUBI holds a doctorate in industrial engineering and is a management consultant with companies such as BMW, Deloitte, Amazon & Co. on her CV. After many stations, she is now following her own personal passion and is on the road with the topics of Community Building, Corporate Influencer Strategy and Connecting GenXYZ.
She supports the global start-up scene in her activities as a mentor and coach at Techstars, European Institute of Innovation & Technology (EIT) Health Accelerator, Insurtech Hub and as a juror at BayStartup, the African Leadership Award and as Partner of the Unicorn Pitch & Battle as well as advisory board member at Ignite Mental Health Incubator.
She is also an Expert Advisor for the European Innovation Council Accelerator of the European Commission. Dr Irène Kilubi is a university lecturer in digital marketing and entrepreneurship and a sought-after speaker at conferences and events.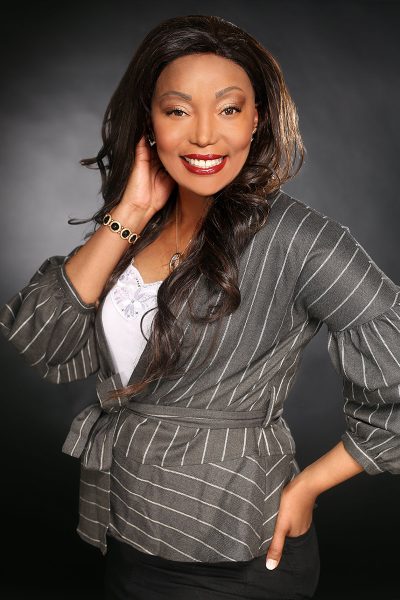 Your investment smart price for a premium expert program
8 Weeks holistic Learning Program virtual entre nous
Career branding to next level success with Dr. Irene Kilubi:
Program April 20 – June 04, 2022
Price: 2.450€ incl.VAT
Special Launch Offer for net4tec Members and Partner Networks
Book your place until 18th of April 2021 and get 10% off
Price: €2.450 including VAT
to know more about the program and registration