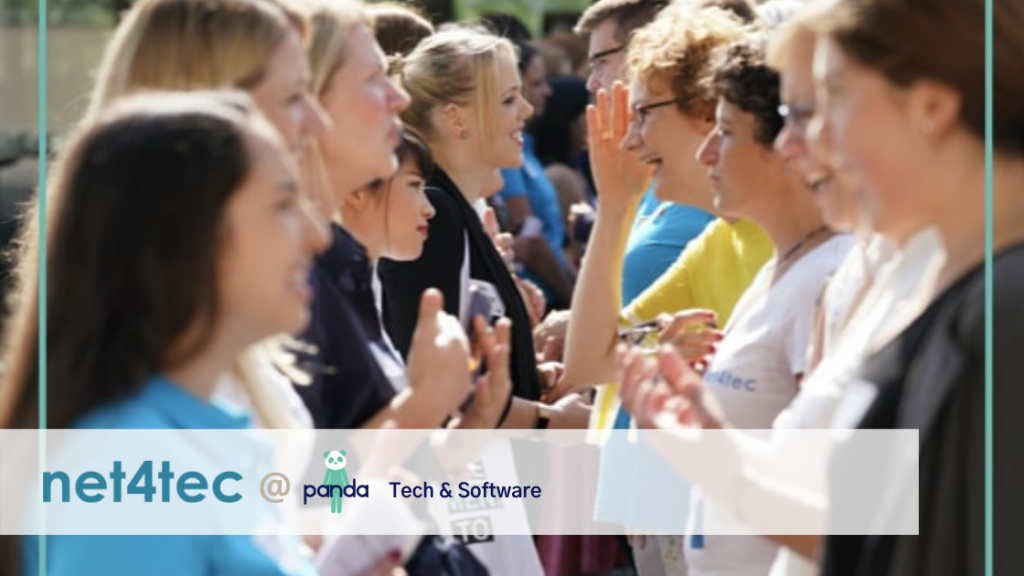 net4tec @ Panda Tech & Software
presented by Bosch
20.-21. November 2020 – Online Event
PANDA Tech & Software presented by Bosch on 20th/21st of November 2020 – Online Event!
net4tec is committed to promoting women's careers in technology + digital business and to sustainably expanding diverse teams. We cooperate with PANDA with a common goal of bringing you forward as a woman and supporting you to expand your personal and professional networks.
PANDA Tech & Software is an online network event and leadership contest for women who are already experienced executives or strive for a leadership role. There will be 70 women from the digital, tech & software industry present. PANDA aims at women who are fond of challenges, grow with them and want to support each other. The PANDA Day offers women the opportunity to test their leadership skills in different team situations. The benefit is diverse: networking, exchange of experiences, valuable peer feedback as well as access to the PANDA network. The chance to be elected and awarded as well as direct contact to companies and jobs.
What awaits the participants?
A competition among like-minded people – constructive, challenging, with a lot of humour and new impulses for everyday job life. Participants work in teams on challenging and original tasks and choose a winner from among their peers during the course of the day. Exchange, networking and mutual feedback are the main topics.
When and where?
Friday, November 20th, from 5.20 pm until 8pm

Saturday, November 21st, from 9.50 am until 4.30 pm

online
PANDA Tech & Software is aimed at women from the tech and IT industry who already hold a leadership role or are interested in leadership or are technical experts.
If you have a technical background or have grown into the tech environment, if AI, IoT, Hybrid-Cloud, Enterprise IT and embedded SW are not hieroglyphics for you, if you are driving technical innovations, burning for them and looking for exchange with other tech women, then PANDA Tech & Software is just the right thing for you!
No matter what makes you a "Tech & Software woman" – If you have at least 2 years (open to the top) work experience, you can apply!
Be a part of it! use the code "net4tec" to skip the first application round as net4tec member.
Application Deadline: October 11th 2020
You find first impression from last year's event in this Video.
You can find more information about PANDA Tech & Software here.
Application phase completed.
net4tec, The FeMale Career Network for inclusive Diversity in Technology & Digital Business.