Summary net4tec @ Virtual Morning Session #9




How to set up first-time leaders for success



28.05.2020 – Online
Managing a project in a group, transitioning from an individual contributor into a management role or starting a leadership career may seem harder than expected but it does not have to be. First-time leaders can prepare themselves for a successful start by self-reflection, putting themselves in other people's shoes and acting as a role model. #FirstTimeLeader
Katrin Grunwald, the founder of The Globe Team, an organizational development consultancy supporting teams worldwide in working better together through on-site and virtual team development workshops is an expert for first-time leaders. She held a very interactive and pragmatic session with #net4tec explaining what should be done before starting as a leader. Together we explored the dos and don'ts of for future first time leaders and discussed recommendations for leaders of first-time leaders to make the transition from team member to team leader a success. #Leader
Asses your situation
In a small check in exercise everyone selected an item on their desk and shared their personal hashtag on leadership (i.e. #Feedback, #Knowyourself, #Transparency, #Inspiration, #ActiveListening, #Trust, #Communication #Learning etc.). After that everyone had a chance to assess their current leadership situation. Surprisingly half of the participants are leading a team already while the other half is planning to lead one in the future or simply was curious. The biggest challenge for most of the participants was moving from their own expertise to managing others with expertise. #Leadership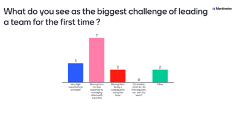 Self-reflection before starting
Before jumping into a new leadership role or just a project it is recommended to take a step back and set a good foundation by self-reflection. When looking at the concept of leadership it is advisable to look at three different aspects – self, team, and context. During the session, several practical options and questions have been presented to self-reflect around these three aspects. #Selfreflection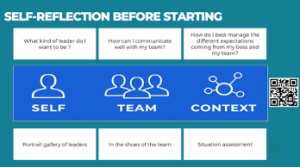 Self – What kind of leader do I want to be?
Look at yourself first and observe all leaders you have met throughout your life. Take a piece of paper and write down examples considering everybody who shaped you. The following list of question can be used as a guidance. #Awareness
What kind of leader do you want to be?

What does it mean to be a leader?

How do you want to be seen and perceived?

Which values do you want to be known for?

Create a portrait gallery of leaders you know (good and bad)?

What did/didn't you like in leaders?

Which behaviors and values did/didn't you like?

Who inspired you?

How did they interact with you?

How did they make you feel?
Team – How can I communicate with my team?
Put yourself into the shoes of your team to understand them individually. Find out what is on their mind to best support them and how to communicate with them. Do not be afraid to ask! #Communication
What is their strength?

What are they proud of?

What do they have been working on lately?

What is driving them regarding working with you?
Context – How to best manage expectations?
Think about yourself from different perspectives and see how you can best manage the different expectations coming from people around you (i.e. team, peers, boss).  Reach out for conversations and consider the following questions. #Expectations
Who are the different stakeholders of the team?

What are the expectations to reach certain outputs?

How do step into your leadership role?

Who are the people to support you, any allies?

Who are the customers of the team?
Recommendations for successful start
To ensure a successful start, it is advisable to create a leadership manifest. It is a valuable idea to have face-to-face meetings with your team members as well as a team workshop to establish trust. Explore the context together with your team. On the other hand, you should avoid jumping right into action without building a relationship with your team. Do not be afraid to communicate as often and as early as you can. Never assume others are like you. #Trust
Input for leaders of first time leaders
At the end, the important role of leaders of first-time leaders in setting first-time leaders up for success has been discussed. As any leader always act as a role mode, show empathy, and give guidance to your team. #Rolemodel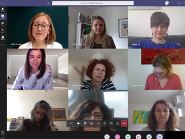 Key take away
Take time to self-reflect before starting

As a leader you are a role model

Define your leadership manifest

Leadership is personal – find your own authentic leadership style

Leaders of first-time leaders are important in setting first-time leaders up for success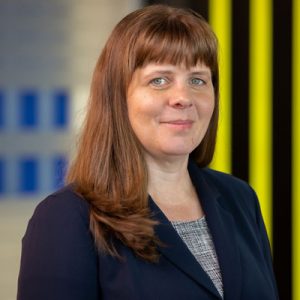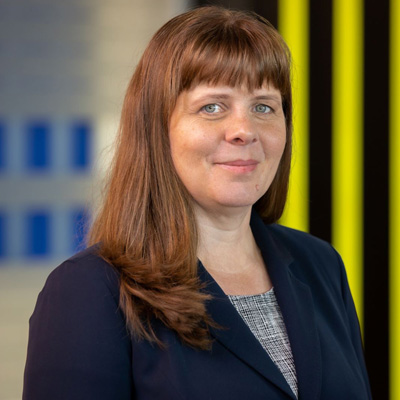 Christine Koch net4tec
Munich Support