"What would you do if you were not afraid?"
Senior Manager in Analytics and Digital Integration | Vodafone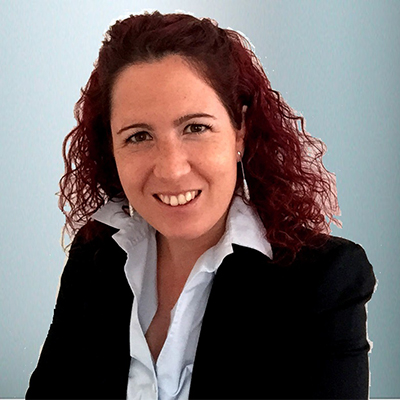 WHAT MEANS CAREER FOR YOU?
Career means for me a fantastic journey full of experiences where I can continuously learn and develop others and myself and ultimately have a job with meaning and impact in the society. My career is giving me opportunities to discover new areas, point of views and grow as professional and as a person.
The people who make their best to leave a better world behind inspire me.
WHAT WAS YOUR BIGGEST PROFESSIONAL CHALLENGE AND HOW HAVE YOU SOLVED IT?
I have left a job which was very comfortable but was not bringing me any value, I have also experienced many times unexpected reorganisations where my team was affected, and I have moved to different countries to find better job opportunities. It is challenging to make bold decisions about next steps, but it is always an opportunity to focus on your strengths, reinvent yourself and to start writing a new chapter in this career journey.
WHAT IS THE WORST ADVICE SOMEONE HAS EVER SAID TO YOU?
I have two kids, and here in Munich, so many people were discouraging me to go back to work. The Bavarian system was not making it very easy either. Fortunately, I was not paying attention to their advice and was following my gut feeling, and I have been growing and enjoying my career as much as before I had kids. I even feel I have more purpose now and organise my time much better.
WHAT ARE THE CHANCES FOR WOMEN IN YOUR INDUSTRY?
I work in the digital areas, and not only there are fantastic opportunities, but we also need more diverse talent! I see a lot of opportunities, and I am thrilled to guide other women to come to the digital area. I write posts in LinkedIn to encourage and guide people to boost their digital skills, and I organise events in Women in Big Data to inspire women. Women in Big Data is an initiative to connect, inspire, grow and champion the success of Women in Big Data careers and I have been volunteering there the last years.
WHAT IS THE LEARNING OR ADVICE YOU WOULD LIKE TO SHARE WITH OTHER WOMEN?
The top advice is from Sheryl Sandberg. In her Lean In book she wrote: "What would you do if you were not afraid?". I continuously have that in mind, as I think many times women we stop ourselves before anybody else does. Just let's not be afraid. We should experiment more and not be fearful of failure. Out of the comfort zone is where the magic happens.
WHAT QUESTION IS LEFT TO BE ASKED, THAT WE HAVE NOT BEEN ASKING YOU SO FAR?
How do you find the professional life as a foreigner in Germany? I am grateful of the opportunities that this country has given me and always felt very welcomed. I believe that diverse background brings direct benefits in business, companies are realising about that and we all have here a great role to play. Apart from that, it has given me the opportunity to learn a fantastic culture and new habits. I have a strong german part in me now. I prefer much more the meal schedules in Germany than in Spain. Ten years ago I was finding rude when I was visiting somebody and I was asked to take out my shoes. Now I expect everybody to take out their shoes immediately when they come home and find them rude if they do not!