virtual entre nous
Holistic learning program for true female leaders

Building highly effective teams
with Dagmara Asbreuk
net4tec virtual entre nous
Building highly effective teams
What´s in it for you? You will…
What are the dates and content?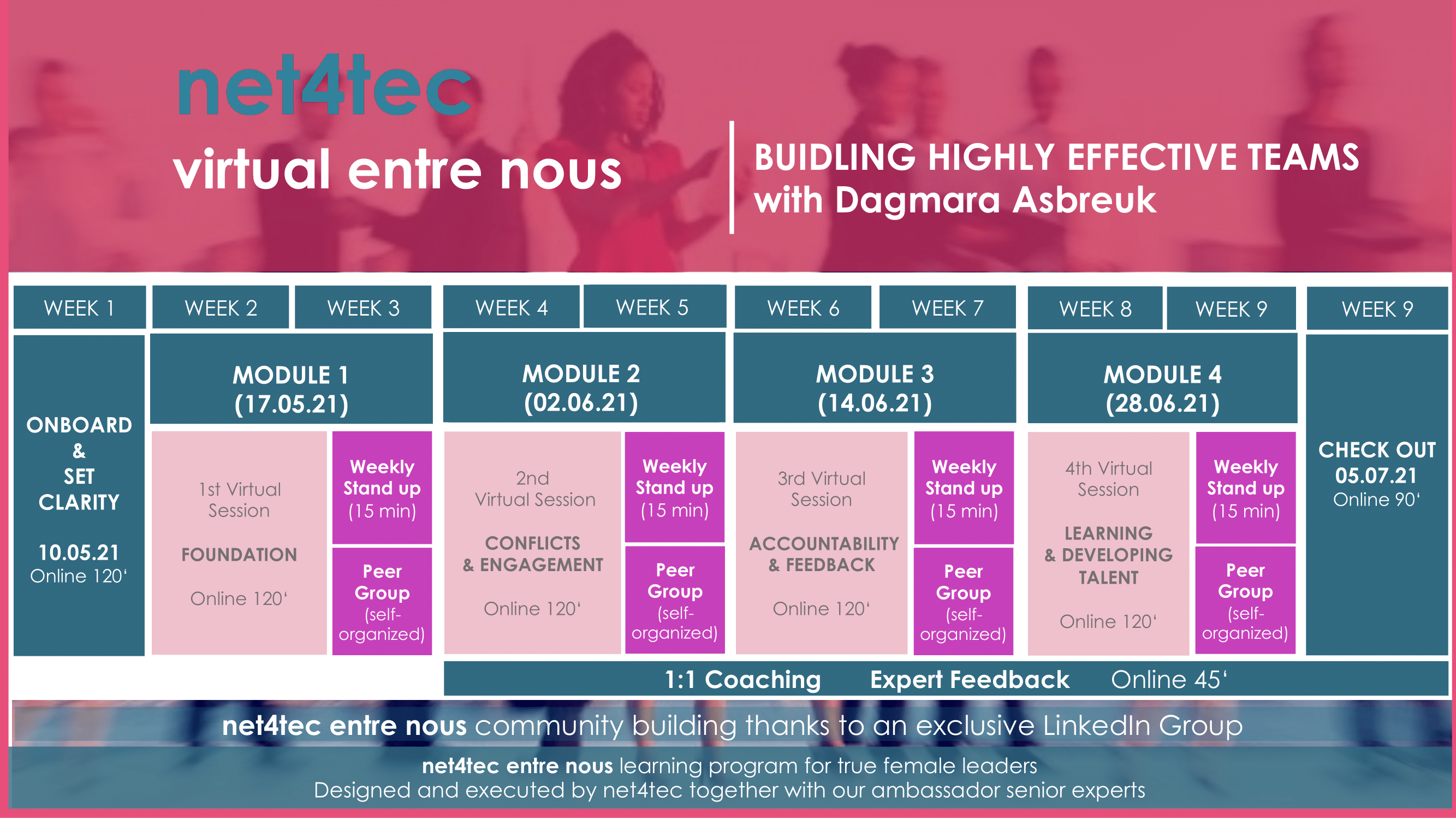 Building highly effective teams
9 Weeks holistic learning program net4tec virtual entre nous
Book your place and be part of the selected group of participants. First come, first served
Price: 1.150€ included VAT 
Special Launch Offer for net4tec Members and Partner Networks
Book your place until  8th of May 2021 and get 10% off

Price: €1.035  incl. VAT
Onboarding: Set the clarity
In our onboarding session we will start with setting clarify about yourself as a leader of an effective teams as well as clarify your vision of a highly effective team. This clarity about yourself and the result you want to create will determine the way you lead the team.
In the first module you will learn what is fundamentally needed to build highly effective teams. We will focus on clarifying how to set direction with your team and what determine dynamics of a team. Furthermore, we will talk about trust and how you can best build it.
Module 2: Conflicts & Commitment
In the second module we will unpack the aspect and myths of conflicts, define which are productive conflicts and why they are needed for a team's success. You will also gain tools on how to raise an awareness in the team about members differences and needs. Finally, you will learn how to lead a diverse team to a commitment and results.
Module 3: Accountability & Feedback
Feedback is one of the fundamental and yet challenging skills to embrace by leaders that impact employee's motivation. In this module you will get the tools and practice giving effective feedback that leaves a lasting impact and inspire to change. Furthermore, you will discover how you can develop a feedback culture.
Module 4: Team Learning & Talent Development
The final module focuses on an essential aspect of team learning & development. You will get practical tools to apply for enabling team development. You will also learn how to effectively develop individual members and coach for performance and engagement.
Each virtual learning module will be carried out via ZOOM and will take place from 19:00 – 21:00 CET.
Your Experts, net4tec Ambassador
Teams are engines of the organization and it is a leader's role to create an environment where teams and people thrive.
Dagmara Asbreuk is a driven, enthusiastic, inclusive leader and professional certified coach focused on bringing value, accelerating growth and results. She is passionate about  developing highly performing and effective teams to bring value to business, leading change and developing leaders.
She brings 15+ years of experience in procurement and global automotive corporations, leading global, virtual, cross functional and disciplinary teams.
This program will enlarge your perspectives, build on your leadership skills & prepare you to be a more effective leader!
Your investment
smart price for a premium expert program
9 Weeks holistic Learning Program virtual entre nous
Building Effective Teams
with Dagmara Asbreuk
Program May 10 – July 05 2021
Price: 1.150€ incl. VAT
Special Launch Offer for net4tec Members and Partner Networks:
Book your place until 8th of May 2021 and get 10% off
Price; 1.035€
Book your appointment with Julia & Begonia & Dagmara to know more about the program and your registration